With panoramic views of mountain ranges, spectacular waterfalls, and green, wooded trails, hiking in the Catskills is an experience you have to see to believe. Many trails also offer opportunities for skiing, snowshoeing, camping, or fishing, so you can really make the most of your time in the wilds.

Before heading out to one of these awesome trails, make sure to check the weather report so you're not caught off-guard. Pack your sunscreen or a light windbreaker if you feel like there's a chance you might need them, and remember that conditions in the mountains can change quickly. You'll also want to leave your favorite pair of running shoes at home—hikes in the Catskills can get wet and muddy, especially after rainstorms. Investing in a good pair of boots or sneakers is key.

You don't need to be an expert hiker to get something great out of your trip into the wilderness. Here's a guide to some of the best hikes anyone can try in the Catskills, whether you're adventuring with young kids or heading out on a challenging solo expedition.
For beginning hikers
1. Mary's Glen and Ashley Falls (Hunter)

This quick hike clocks in at 0.6 miles, making it more of a walk or stroll than a wilderness trek. It's perfect for families with young kids who might not have the strength or stamina to conquer longer trails, but it's still picturesque and makes for a pleasant day trip.

The trail itself leads through a wooded glen along a beaver meadow and provides beautiful views of Ashley Falls, a scenic waterfall. Located close to the North-South Lake Campground, the Catskills' largest and most popular campground, this hike is in a great location for fun outdoor activities.

2. Frick Pond Loop (Livingston Manor)

This light and easy hike spans 2.2 miles, trailing through a large hemlock grove, open woods, and fields of ferns. There are no steep climbs or descents, making this a great choice for kids or anyone desiring to get some fresh air without a side order of adrenaline. You'll likely encounter lots of birdwatchers here, not to mention plenty of wildlife.

Frick Pond Loop is best explored in the summertime when the wet areas have dried. Otherwise, you might be in for a damp, muddy trek. Enjoy scenic views of Frick Pond and, of course, the spectacular Catskill Mountains in the distance.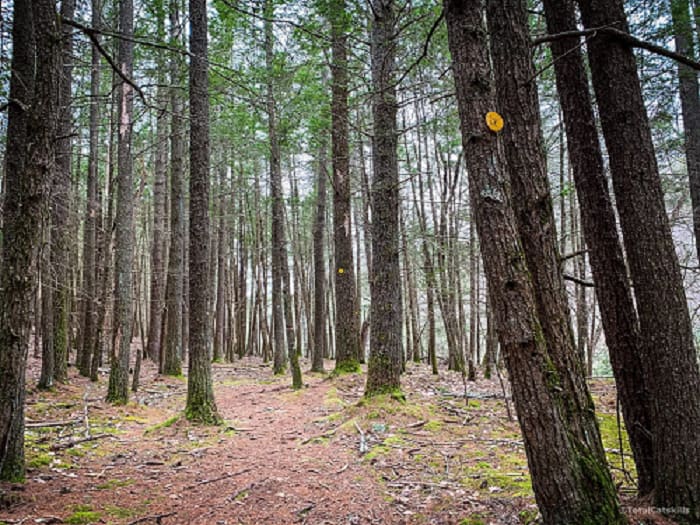 3. Onteora Lake Yellow Trail Loop (Kingston)

Close to the towns of Kingston and Woodstock, the sparkling Onteora Lake provides an amazing hiking experience packed with natural beauty. This is the perfect place to visit if you're looking to get away from screens and the hectic workday and reconnect with the wonder that is the Catskills.

Three different interconnected trails can be found at Onteora Lake, but the Yellow Trail Loop is the easiest, spanning 2.4 miles through a peaceful hemlock forest. The environment of oak and hemlock trees, old quarries, ponds, and streams are the perfect example of what makes the Catskills region so beautiful. You won't need to scale a mountain on this hike, but plan on gentle, rolling hills and a small stream crossing. This is one hike where you'll definitely want to wear your waterproof shoes or hiking boots.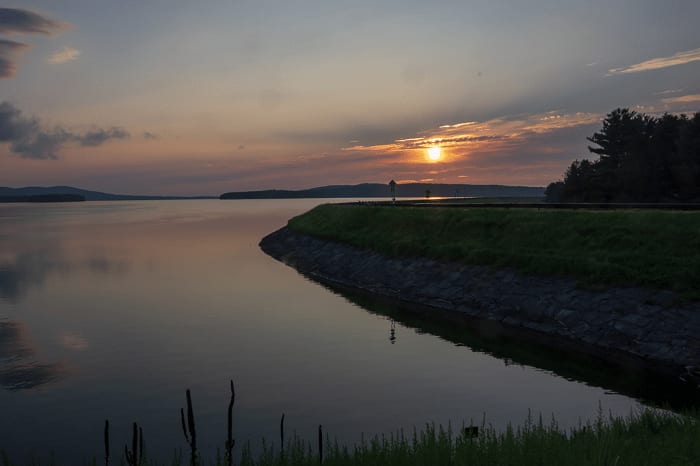 4. Ashokan Reservoir Promenade (Shokan)

One of Ulster County's must-see destinations, the Ashokan Reservoir spans over 8,000 acres and provides much of New York City's water supply. Take in the incredible views of the Catskill Mountains and the glistening reservoir by strolling along this 2.8-mile loop hike.

With a paved walkway along the reservoir, the Ashokan Reservoir Promenade meets ADA accessibility requirements, ensuring that this is an experience everyone can enjoy. This is an especially great hike to take in the fall—the festive and colorful leaves are a must-see. Along the way, you might see deer or bald eagles, so keep your eyes open!
For intermediate hikers:
5. Kaaterskill Falls (Haines Falls)

One of the Catskills' most beautiful waterfall hikes, the trail up to Kaaterskill Falls is brief—only 1.4 miles roundtrip—but a bit more difficult. The path weaves high above the Hudson River Valley, and the falls themselves are well worth the trek. Over the years, their beauty has inspired numerous paintings, prose, and photographs.

The trail is very popular with hikers and can be a bit crowded. If you've got the spare time, you might consider visiting on a weekday that's not close to any holidays. Be sure not to stray off the beaten path; rocks near the top of the trail can be very slippery. Sturdy hiking shoes are a must.

6. Pratt Rock (Prattsville)

Known as "New York's Mount Rushmore," this 3.1-mile hike just outside Prattsville will take you up a 900-foot elevation, providing amazing valley views on your way up. Pratt Rock is named for Zaddock Pratt, a Greene County settler who later became a member of the House of Representatives; he commissioned stoneworkers to carve depictions of moments in his life into the nearby cliff, which can be viewed today from the trail.

A hike highlight: several old tombstones, the burial plots of Pratt's dogs and horses, pop up along the trail's ascent. After you've enjoyed the invigorating climb and stunning views, learn more about Pratt's life at the Zaddock Pratt Museum. While the trail is fun and educational, be advised that it might be too steep for younger kids.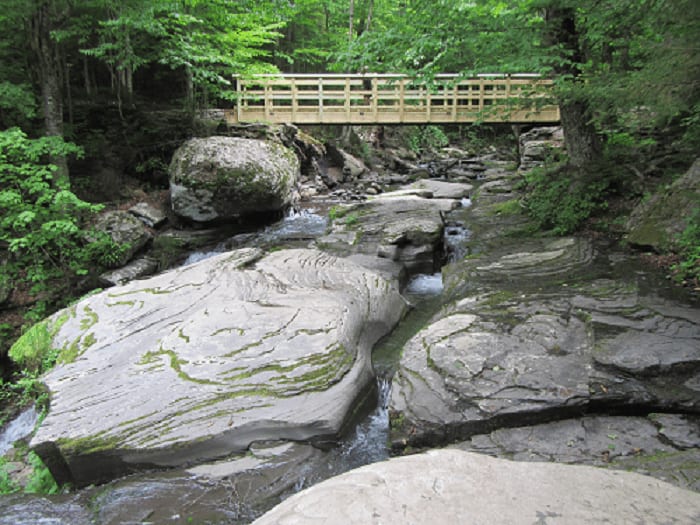 7. Diamond Notch Falls (Westkill)

This 4-mile hike is great for intermediate hikers looking to get out into the Catskills' beautiful weather. Best hiked between May and October, as it gets a bit icy and slippery in winter, this trail will take you up an elevation of 1,387 feet. The reward is a beautiful 15-foot waterfall.

Diamond Notch is a dog-friendly trail, so leash up your four-legged companion and bring him along to enjoy the natural wonders.
8. Windham High Peak (Windham)

A moderate 7.3-mile hike adjacent to Burnt Knob Mountain, this lively and scenic hike takes you over footbridges and brooks and eventually up a steep ascent to a rock ledge overlooking the Hudson Valley. The panoramic views of the Catskill Mountains and valley are well worth the trek to the top, and you can even bring your dog along for the trip.

From the rock ledge near the 3,500-foot elevation sign, you'll be able to catch glimpses of Albany in the distances, and depending on the weather, possibly even the Adirondacks and the Taconics. The rock ledge itself offers some cool history in the form of old etched graffiti dating back as late as the 1800s.
For advanced hikers:
9. Indian Head Mountain (Hunter)

This 7.8-mile trail up Indian Head Mountain is perfect for backcountry hikers who aren't afraid of some strenuous climbing. This is a tough one, so make sure to pack all your gear—and that includes serious hiking boots rather than your favorite pair of outdoorsy sneakers. Toss some bug spray, granola bars, and water bottles in your backpack and prepare for a real wilderness adventure.

The trail crosses Plattekill Creek, joins briefly with the Long Path, and eventually winds through a steep crevice. Definitely not a hike for the faint-hearted (or kids, or dogs), the Indian Head Mountain experience provides an excellent taste of what the Catskills have to offer.

10. Escarpment Trail, Windham Trailhead (East Windham)

This adrenaline-pumping 23-mile hike is great for active hikers who are looking to get a real workout. Tackle the challenging terrain through mixed hardwood forests and dark hemlock groves, following the flowing and bubbling creeks. When you reach the higher peaks, you'll find yourself immersed in spruce and fir trees as you gaze down at spectacular views.

The highest point on the trail? Blackhead Mountain's summit, clocking in at 3,940 feet. This trail also connects to the Long Path and can be hiked in a weekend, though most hikers plan for longer backpacking trips.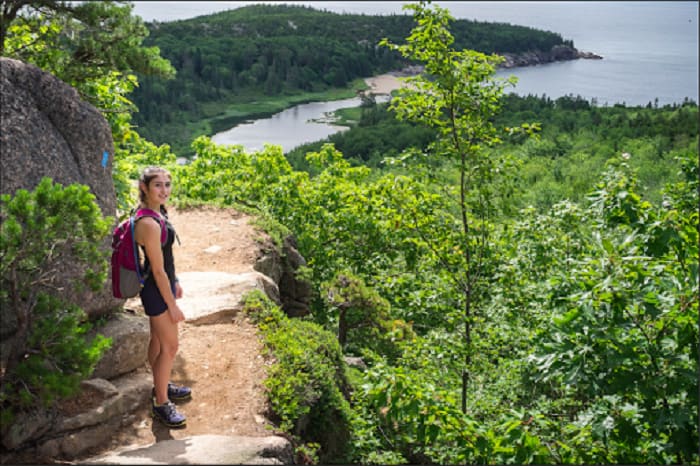 Source: Whoa Mag
11. Devil's Path (Elka Park)

I've saved the best for last. Coming in at 24.15 miles, the Devil's Path hiking trail is regarded as one of the toughest and most dangerous trails in the eastern United States. Located in Greene County, this super popular trail is the perfect choice for adventurous hikers who are trying to make it to some of the 35 Catskill High Peaks; by following Devil's Path, you can reach five of them.

Devil's Path features some challenging vertical climbs, particularly up and down the gaps between peaks. Expect to scramble up using your hands and feet as you make your way up cliffs and through some rocky chutes. This heart-pounding experience makes for an awesome day trip, with the majority of hikers tackling one or two summits in 24 hours. If you're really dedicated—and really energetic—it's possible to complete the entire trail in one day, but it'll be a long one!

Browsing houses for sale in the Catskills? Contact upstate New York real estate agent Joseph Satto at Fresh Air Realty for all your Catskills real estate needs.