With beautiful landscapes ideal for farming and an array of local farms, the Catskills have become a thriving center for farm-to-table restaurants and rustic dining events. Check out our list for the best farm-to-table dining experiences in the Catskills.
Local 111
Located in the village of Philmont, Local 111 is an intimate eatery set in a renovated gas station. Chef and owner Josephine Proul works to evoke the atmosphere of a small-town general store. She combines her commitment to use the abundant produce and goods of local farms with the desire to provide quality food to the community.

For over a decade, Local 111 has attracted farm-to-table patrons with its welcoming ambiance. Diners can sit near windowed sliding garage doors to view a 19th-century church across the street while enjoying unique dishes and sipping on cocktails.

The nutrient- and flavor-rich menu offers creative combinations, such as a blood orange salad with roasted beets, mint, tahini and almonds, and spicy lamb sausage with buttermilk sour cream, sweet potato, and celery salad.

The restaurant's dessert and pastry selection are not to be overlooked. Zucchini bread doughnuts and rhubarb pavlovas are a couple of the impressive sweet additions to Local 111's menu.

*Image courtesy of Local 111 website.
Red Barn Studio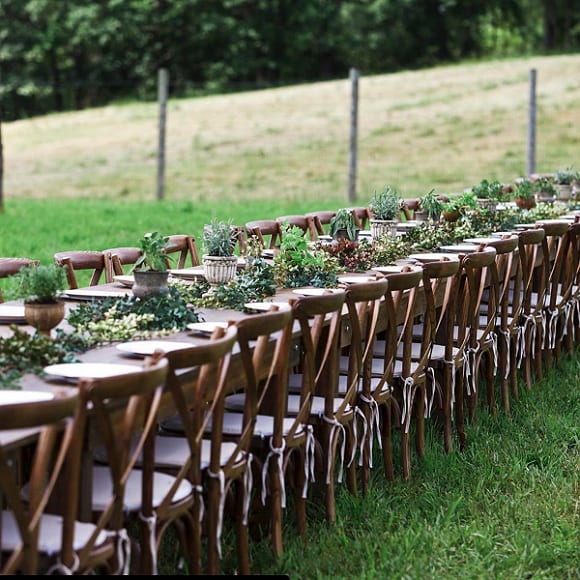 Image courtesy of the Red Barn Studio Facebook page.
Red Barn Studio was founded in 2018 in the lower Catskill Mountain region with a mission to teach people how to use and celebrate the natural bounty of the area. The venue focuses on a passion for food and cooking while respecting the environment and foraging for food in a sustainable way.

Red Barn hosts classes, workshops, and special events throughout the year for interactive, educational opportunities. The chef's intention is "to bring slow food traditions and knowledge into modern life." The venue works with a number of local farms, including Willow Wisp Organic Farm, Hilly Acres Farms, Tonjes Farm Dairy, and M & S Farms. In addition to sourcing from local farms, Red Barn makes a variety of food from scratch, such as fermenting, cheesemaking, and baking bread and other baked goods.

During Sullivan Catskills Farm to Table Week, a celebration of local farmers, chefs, distillers, brewers, and cider makers, Red Barn Studio collaborates with The Farmhouse Project for a Terrain & Table Dinner. Red Barn's chef, Cheryl Perry, helps to produce a dinner showcasing the flavors and abundance of the Sullivan Catskills to the local community.
Peekamoose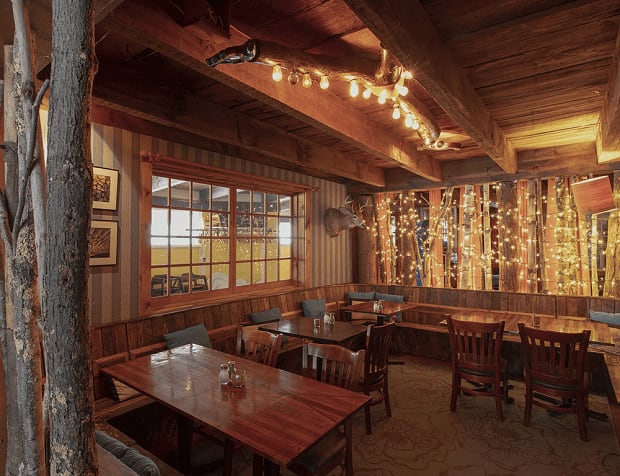 Image courtesy of the Peekamoose Restaurant website.
Peekamoose is widely known as one of the most popular restaurants in the Western Catskills. The rustic restaurant is a farm-to-table favorite of residents and visitors. The ever-changing menu evolves with the seasons to take advantage of the area's freshest ingredients.

Start with the refreshing chilled spring asparagus soup with mint, or wood-grilled octopus, almond romesco, and lemon. Tuck into wild mushroom risotto or pork loin served with Migliorelli Farm purple carrots, pearl onions, and cauliflower. Round out the meal with jumbo chocolate chip cookies and steamed carrot cake with cream cheese frosting!
Henning's Local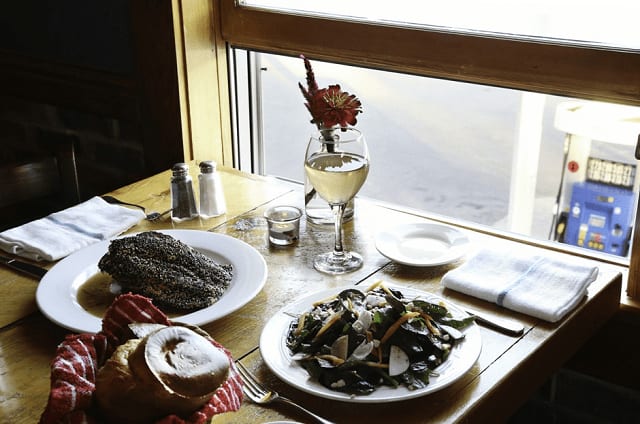 Image courtesy of EscapeBrooklyn.com.
Henning's Local, a popular Catskills farm-to-table restaurant, is situated in an unusual location: above Heinle's General Store and gas station. The restaurant's charming atmosphere is enhanced by chef Henning Nordanger's exceptional fare.

Chef Nordanger's menu is inspired by his Norwegian background and features a variety of appetizers, sides, and entrees listed under the label, "Local Comfort." The menu includes dishes such as cold-poached Atlantic salmon with bean sprouts and peanut-sesame sauce.

Henning's Local provides a truly special and delicious dining experience in the Catskills. The generous portions ensure tasty leftovers to enjoy later. Make room for the restaurant's dinner rolls and inventive desserts. Honeycomb toffee, anyone?
The Heron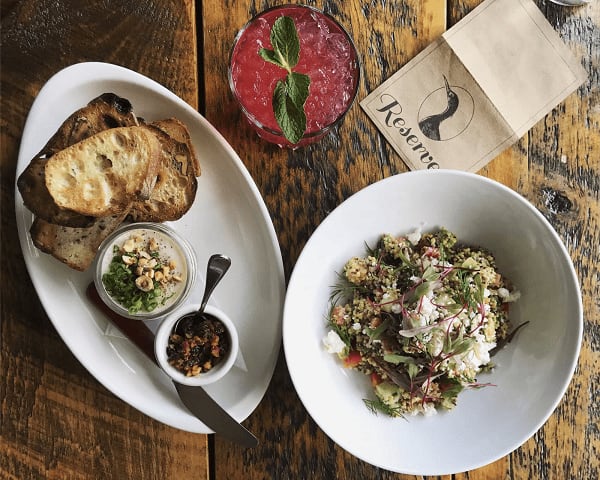 Image courtesy of EscapeBrooklyn.com.
Opened in 2012, The Heron is an essential dining experience for those in Narrowsburg. Owners Paul Nanni and Marla Puccetti have created a vibrant culinary establishment in the area with a menu sourced from Delaware River Valley farms.

The menu is Southern-inspired and includes comfort food, like buttermilk biscuits, fried chicken, and banana pudding. The Heron is located above the Emerald Ballroom, so diners can head downstairs for a drink and live music following a tasty meal.
Bethel Woods Farm Dinners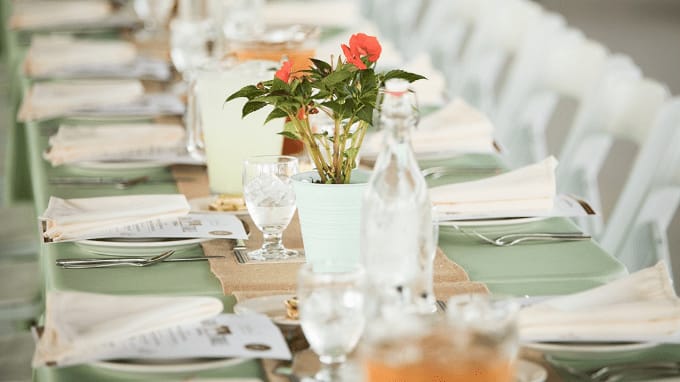 Image courtesy of the Bethel Woods Center for the Arts website.
Bethel Woods Center for the Arts is located at a National Register Historic Site where the 1969 Woodstock festival took place in Bethel, NY. The 800-acre campus, the site of a variety of culturally rich performances, includes the Pavilion Stage amphitheater with seating for 15,000, a 440-seat indoor Event Gallery, the award-winning Museum at Bethel Woods, and a conservatory offering educational events and programming.

Keeping in line with its mission to inspire, educate and empower, the center hosts the "Farm-to-Table Dinner at Bethel Woods" to spread awareness of and celebrate the region's local growers and resources.

The event takes place in open-air Market Sheds overlooking the original Woodstock festival field. Attendees of the fall dinner enjoy a multicourse dinner made from locally sourced ingredients and prepared by Bethel Woods' executive chef. Last year's meal, a family-style menu with ingredients sourced from several regional farms, focused on a theme of "Peace, Love and Music."

Patrons dined on mozzarella-stuffed zucchini flowers, corn and potato chowder with basil pistou, grilled spatchcock chicken with a selection of barbecue sauces, and blueberry and raspberry cinnamon and cardamom crumble with vanilla bean ice cream. The meal was paired with live bluegrass, folk, and roots music performances for the perfect Catskills evening.
Thyme & Co.
Image courtesy of Thyme & Co. website.
Thyme & Co. is a market and cafe serving breakfast and lunch made with microseasonal flavors and local produce. Owner and chef Carrie Fogg-Shaw has curated a menu of high-quality fare, making Thyme & Co. a most welcome addition to the local restaurant scene.

Their signature house burger is made with a beef or black bean patty, American cheese, special sauce, and pickles on a sesame potato bun. Looking for something a bit lighter, try the Manero's Italian salad, or Greek yogurt and granola served with homemade strawberry-rhubarb jam, chopped almonds, and dried and pickled apricot.

Chef Fogg-Shaw has built close relationships with the farmers providing the fresh produce and ingredients for the restaurant's cuisine. The crowd-pleasing cafe has become a destination for diners searching for farm-fresh fare and a seasonal variety of casual and inviting breakfast dishes, sandwiches, and salads.
The Laundrette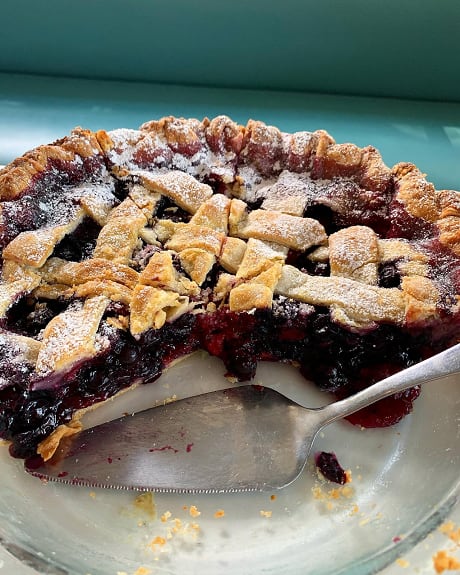 Image courtesy of The Laundrette Facebook page.
The Laundrette is one of the top farm-to-table restaurants in the Sullivan Catskills. Sitting on the banks of the Upper Delaware River in Narrowsburg, the woodfired pizzeria is housed in an old laundromat, which inspired the restaurant's name.

Owners Trish and Phil South believe in sourcing all ingredients for their dishes from local farmers and producers and supporting the region's farm-to-table movement. Using locally sourced food results in a positive impact on the environment and ensures the freshest elements and flavors for their artisanal pizzas, salads, soups, and organic hot dogs.

The Laundrette's menu fluctuates based on what's in season. The family-owned eatery showcases local ingredients in their pies. Customers can choose from a traditional margherita with tomato sauce and Tonjes Farm mozzarella, or they can explore more unusual options. Try a four-cheese white pie with ricotta, gruyere, gorgonzola, and mozzarella, or their bacon cheeseburger pizza with cheddar cheese, mozzarella, lettuce, and tomato.

Every pie features a puffy, char-speckled sourdough crust made in a tiled Italian oven. Don't skimp on sides! The beet salad with citrus, feta and walnuts is a favorite, as well as their "hangover soup," which is described as a cure-all with rice, pork, garlic, ginger, cilantro, scallions, and chicken broth. Ordering one of their homemade desserts and bold cocktails rounds out a mouthwatering meal!
Interested in learning more about farm-to-table dining in the Catskills communities? Contact Joseph Satto today. His dedication and experience as a Catskills real estate agent will help ease the process of finding the perfect escape in the Catskills.