The magnificent Catskill Mountains region of New York State is home to swaths of sprawling and picturesque farmland, so it's no surprise that there are plentiful options for outdoor farm dining in the area. This summer, enjoy some stunning mountain views and gorgeous ambiance from some of our favorite farm-based restaurants!
This picturesque Preston Hollow farm is home to the Bees Knees Cafe, tucked away inside an original 1820s farmhouse. Heather Ridge Farm is located in a bucolic setting with apple orchards, shady hollows, and rolling fields where sheep graze. Sit outdoors surrounded by sweet-smelling wildflowers and wandering alpacas, enjoying stunning views of the Catskills. Lavender picnic tables are scattered throughout the spacious grass, perfect for safe outdoor dining this summer.
Recently voted one of the best restaurants in the Capital Region by readers of Capital Region Living Magazine, the cafe is a local favorite with truly fantastic dishes and a beautiful, peaceful ambiance. Bees Knees Cafe's head chef Rob Handel incorporates meat, poultry, and eggs from Heather Ridge Farm into the menu, exemplifying the phrase "farm to table." All produce is locally sourced or foraged, and award-winning local cheeses and dairy items are typical fixtures on the menu. It's the perfect place to stop by for brunch with friends!
Enjoy a french toast bread pudding topped with rhubarb compote, custard sauce, and toasted almonds, or the farmhouse skillet made with baked eggs, farm-made chorizo, ancho chili sauce, Brovetto cheese, and cornbread. If you're not especially hungry, opt for a small plate of spinach and feta quiche, cornbread and butter, or asparagus chopped salad. Finish off the meal with a tasty dessert like a root beer float or salted caramel brownie, and don't forget to try the organic fair trade drip coffee or a selection of hot herbal teas.
Heather Ridge Farm also puts on frequent events on the lawn under a spacious tent. There's live music, holiday celebrations, and various fun community events for the whole family to enjoy. The farm is noted for its Fried Chicken Picnics, where people travel from miles around to try the restaurant's famous fried chicken. At the monthly picnics, the farm-raised pastured chicken is cooked with a dusting of blended spices and gluten-free flours and fried until delectably crispy. A selection of farm-made sauces are served with the chicken, and diners can choose from a variety of seasonal side dishes. Dessert is served as well, and drink options include sodas, iced teas, freshly roasted fair trade organic coffee, and herbal tea.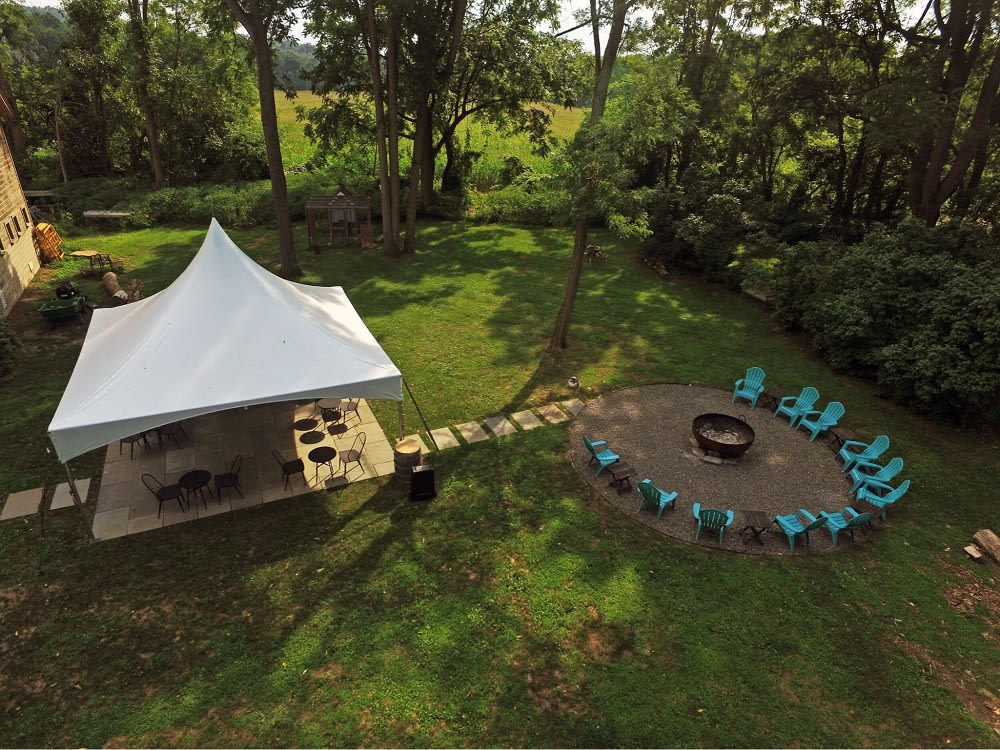 Credit: Cooper's Daughter Spirits
Located in the hip town of Hudson, the Olde York Farm is a female-owned and family-operated distillery and farm, in one of the area's most beautiful places to share a drink with friends. The Cooper's Daughter Spirits distillery is part of the historic Jacob Rutsen van Rensselaer House and Mill Complex, and today's distillery is located inside the former carriage house. Bourbon, whiskey, and brandy are made on-site at the farm and aged in handmade barrels. Visitors are welcome to tour the distillery and farm on weekends.
For a fun outing with friends, stop by Cooper's Daughter Spirits on the weekend to enjoy the sunshine and gorgeous views from the Cocktail Garden. Sit outside and sip on tasty handcrafted cocktails, local beers, or a glass of wine! Fully equipped with tents, propane heaters, and a large fire pit, the Cocktail Garden is available year-round for visitors to enjoy.
Chocolate lovers will adore the Hot Cacao made with Cooper's Daughter cacao maple vodka, cocoa, and Nutella, topped with marshmallows, whipped cream, and dark chocolate. The Not So Basic is another drink favorite, a mixture of Cooper's Daughter pumpkin spice vodka, cold brew, sweetened condensed milk, chocolate bitters, black walnut bitters, and whipped cream. During the summer, try a Lilac Lemonade made with Cooper's Daughter lilac liqueur, Diamond St. vodka, Luxardo cherry syrup, rose and lavender bitters, and lemon.
Bonus: you won't have to drink on an empty stomach — regular food trucks stop by to provide delicious treats, and on the second and fourth Sundays of the month, diners can enjoy delicious farm-to-table dumplings! Follow Cooper's Daughter Spirits on
Instagram
to keep up with the food truck schedule and all the latest goings-on at Olde York Farm.
Twin Star Orchards is one of our go-tos for craft beer, freshly made apple cider, wood-fired Worth noting, the only ingredient in their unique ciders are apples direct from their orchard.
Their hearty menu of wood-fired pizzas includes classics, such as Margherita pizza, but also some wholly unique options such as the Dragon's Breath pizza, made with fresh mozzarella, chorizo, sweet onions, cilantro, jalapenos, Mike's Hot Honey, and aged Parmigiano Reggiano. If you're a veggie lover, try their vegan pizza which is lovingly crafted using San Marzano tomato sauce, broccoli rabe, mushrooms, onions, and truffle oil.
Families regularly gather at this New Paltz, NY staple to hear the live music and the expansive ground give little ones plenty of room to roam and explore.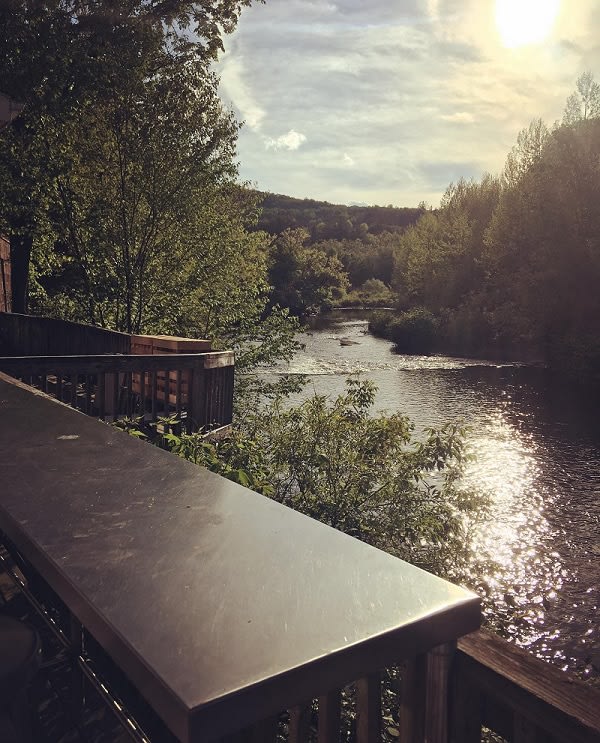 Credit: Main Street Farm
Livingston Manor's Main Street Farm is one of the town's anchors, a combination cafe, and a beloved market. The cafe offers a quintessentially Catskills menu, full of fresh produce and locally sourced ingredients. Breakfast and lunch are made with the most delicious and fresh market items, allowing patrons to enjoy tasty sandwiches, soups made from scratch, and healthy salads. Vegetarian and vegan options are available to suit everyone's needs, and you can also pair your meal with a craft cider, beer, or wine.
While you enjoy gorgeous views of the river, try one of Main Street Farm's iconic sandwiches! The Farmstead, which can be grilled upon request, is made with Tonjes cave-aged Rambler raw cow cheese, olive oil, and cracked black pepper served on a freshly baked baguette with a dill pickle on the side. Another favorite is the Sloppy 'Skills sandwich, which is served hot and features house-seasoned Slope Farms grass-finished ground chuck topped with fresh cilantro and raw diced onion; the decadent Tonjes Farm Rambler cheese can be added on.
Diners can also choose from a selection of artisan soups, including the chicken dumpling soup made with chicken, sauteed onions, celery, carrots, and, of course, hearty dumplings topped with nutmeg and parsley. Each soup is available in several portions: a small side, a cup, a bowl, or a 13.5-quart container to go, so you can continue to enjoy the delicious tastes at home.
If you fall in love with Main Street Farm's cuisine at first bite, not to worry — the market works with local farms and shops to provide the finest goods from Somewhere in Time Farm, Tonjes Farm Dairy, Snowdance Farm, Catskill Organic Chicken Farm, and, of course, pork and eggs from their very own farm. You can purchase many of the ingredients found on the menu at the market, including local tomatoes and pickles, cured meats, craft seltzer, and the fresh trout the farm is known for. If you're heading out for a picnic lunch with your family or friends, stop by the market first to pick up snacks and supplies! The farm even holds a farmers market during the summer where you can buy some incredible fresh produce.
In Accord, NY, Westwind Orchard is a gorgeous farm-based backdrop for a meal. Whether you're craving one of their inventive hand-tossed pizzas and a beer or a stunning view of the countryside while you relax with a glass of their expertly crafted cider, Westwind Orchard is a magnet for locals and weekenders alike.
Before you sit down for a drink and a bite, shop their selection of jams, preserves, flavored apple cider vinegar, maple syrup, and chocolate. Westwind Orchards also harvests raw honey from it's apiary, an excellent addition to any kitchen.
With its beautiful string lights, romantic ambiance, and decadent dishes crafted from farm-grown ingredients, Westwind Orchard is a favorite spot for locals. Their menu of Italian dishes touts rich, filling entrees like heaping plates of cacio e pepe and oven-roasted pork ribs. Top off the evening with tiramisu or grab a drink from their on-site cidery and enjoy Westwind Orchard's apples to the very last drop.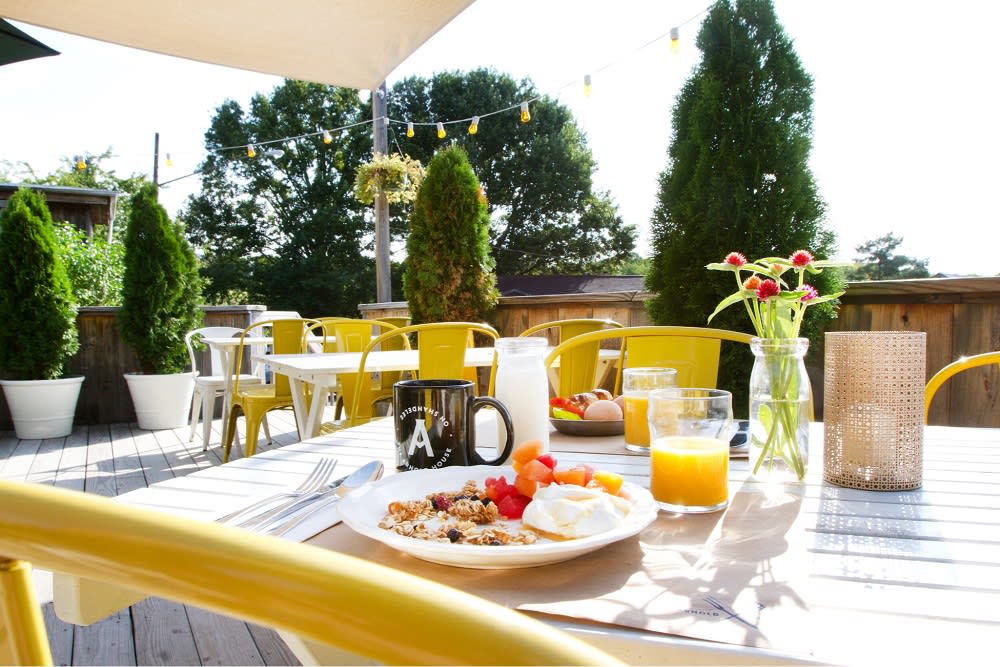 Credit: The Arnold House
Another Livingston Manor favorite is the Arnold House, a farm and restaurant that's perfect for every kind of outing, from a romantic date to a big group dinner. The farm is located in a gorgeous pastoral setting in the western Catskills, tucked away in the forests by the Shandelee Mountain. You'll love this relaxing paradise situated on 80 acres of land, a community fixture for over 100 years. The Arnold House underwent a renovation in 2014 and today features a fabulous tavern where diners can enjoy a delicious meal on the outdoor patio, soaking up the Catskills sunshine.
While the Arnold House Tavern's menu typically changes seasonally, you can expect to find delicious dishes, such as the Beaverkill trout served with wild rice, asparagus, and a honey herb glaze, or the pan-seared salmon with pesto, garlic couscous, and blistered tomato. If you're not in the mood for seafood, the Tavern serves a decadent chili-rubbed ribeye steak served with smashed fingerling potatoes, pineapple salsa, and scallions. But the real local favorite is the fried chicken sandwich, an iconic and delicious treat that features a Dorito crust, fresh mozzarella, roasted garlic aioli, and arugula.
The Arnold House Tavern is also a beautiful place to enjoy brunch with friends, sipping on a cup of coffee, and taking in the breathtaking views from the patio. Fun shared starters include tater tot nachos, made with pulled chicken, garlic jus, mozzarella, roasted tomato, and balsamic, or the breakfast fries served with white cheddar, bacon, and fried egg. During the summertime, visitors can enjoy gathering around a communal fire pit, relaxing on the porch, or listening to live music on the weekends.
Arrowood Farms has taken a homegrown approach to brewing and distilling. By creating bold and unique flavors with locally sourced New York ingredients, a drink from Arrowoods Farms is truly farm-to-glass (or bottle). The Arrowood Farms Taproom and Brewery is located on 48 acres in Accord, NY, and with fifteen draft beers on tap, you'll have plenty to choose from!
Enjoy a sunset while lounging on their beautiful grounds, and once you've worked up an appetite, grab a seat at
The Apiary Kitchen & Bar
, their on-site restaurant and a celebration of their brewery, farm, and distillery. Indulge in their extensive list of libations, elevated American eats, and an array of vegetarian-friendly options that has something on the menu for everyone.
Browsing upstate homes for sale in New York? Contact Catskills real estate agent
Joseph Satto
at Fresh Air Realty for all your Catskills and upstate NY real estate needs. He and his experienced team will be happy to help you find the Catskills home of your dreams!